So proud to report that my debut novel, The Demon of Histlewick Downs, first volume in The Dreamweaver Chronicles is now available as an ebook on Amazon.com. ISBN 978-0-9906281-0-1. ASIN B00M1J2U8I. Goodreads: https://www.goodreads.com/book/show/22888765-the-demon-of-histlewick-downs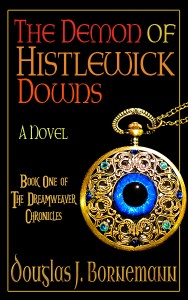 For newer visitors, here's the premise:
When the Church declared all spell-casting to be heresy, young Thoren Theratigan wasn't worried. After all, despite a deep academic knowledge of magic theory, his father couldn't work an actual spell if his life depended on it. Unfortunately, that didn't stop the Inquisitors from breaking down their door and dragging his parents away as heretics. When Thoren learns the Inquisitor General is staying in Histlewick Downs, he resolves to travel there to rescue his parents and set the record straight. Little does he know the Inquisitor General has powerful enemies—genuine magic-wielding heretics who will stop at nothing to oppose him. Armed only with his determination, a relative's peculiar pocket watch, and a fraction of his father's useless knowledge, can Thoren stave off the Inquisitor General's enemies long enough to convince him he's made a mistake?
Up next–the paperback edition of DoHD through CreateSpace, and work on the next three volumes in The Dreamweaver Chronicles, a trilogy with the working title Practical Phrendonics.The trilogy is already written, and I'll now be turning my attention to editing. I'll keep you posted on any new developments.
Enjoy!